Maksteel being very focused in quality, now produce their own raw materials. In this way Maksteel has entered into a wide field of Stainless steel industry in 2014 as a part of backward integration. Maksteel exports their stainless steel products across Europe and Asia since 2014. With this development, they can now provide the customers with a wider range of products.
Stainless Steel Seamless Pipes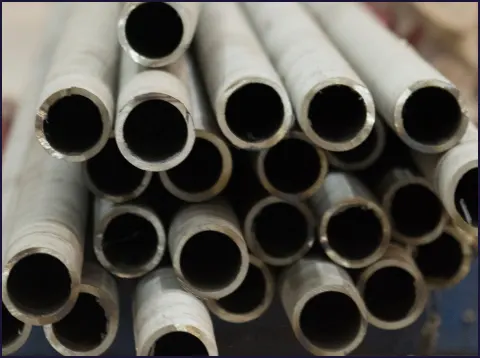 Maksteel's Seamless Pipe range covers the main stainless steel grades & sizes required by the industry. Non standard grades can be supplied on request. Production program is according to main manufacturing standards like ASTM/ASME, DIN EN and other international standards. Non standard seamless pipes can be made to order. Maksteel tries to maintain sufficient stocks at various levels to enable timely deliveries and ensure trouble free operations of its clients.
Outside Diameter:
1/4″ NPS to 6″ NPS
Wall Thickness:
SCH. 5s to SCH XXs
Supply Condition:
Annealed & Pickled
Specifications:
ASTM; ASME; DIN EN (German); JIS (Japan); Norsok, Gost etc.
Applications:
Oil & Gas, Petrochemicals, Dairy Processing Equipment,
Power Generation, Heat Exchangers, Chemicals,
Transportation (Aerospace, Automobiles, Railways),
Pharmaceuticals & Medical Equipment, Defence,
Mechanical & Plant Engineering, Liquefaction Projects,
Food & Beverage Processing, Pressure Vessels,
Marine Equipments, Pulp & Paper etc.
Grades*
304/L – 1.4301/1.4306
316/L/Ti – 1.4401/1.4404/1.4571
321/H – 1.4541/1.4878
UNS S32750 – 1.4410
Stainless Steel Seamless Tubes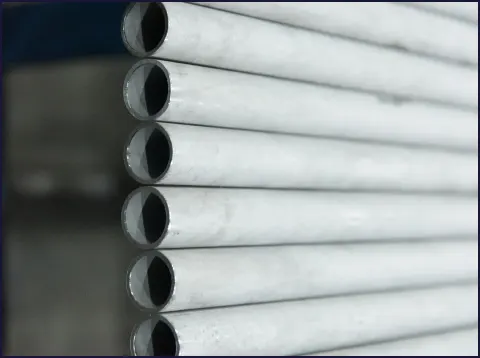 Hydraulic & Instrumentation Tubes also refered as pressure tubes, play critical role in safe and trouble free operations of user industry. Maksteel has a range of these tubes from 6.00 mm to 50.80 mm. These tubes are controlled processed to final dimension from Mother Hollow by cold drawn process and finally bright annealed to get the required tensile strength to withstand the pressure flowing through these lines. Maksteel has high competence for these precision tubes. These tubes are generally used in Instrumentation & Control lines, Compressors, Process Lines, Fuel & CNG lines, Safety Systems, Signal &Transmission lines, Hydraulic System, Subsea Equipment, Pneumatic lines and Sampling & Analyser Lines etc.
| | |
| --- | --- |
| Outside Diameter: | 6.00 mm to 50.8 mm |
| Wall Thickness: | 0.89 mm to 6 mm |
| Supply Condition: | Bright Annealed / Electro & Mechanical Polished / Annealed & Pickled |
| Specifications: | ASTM; ASME; DIN EN (German); JIS (Japan); etc. |
| Applications: | Oil & Gas, Petrochemicals, Dairy Processing Equipment, Power Generation, Chemicals, Transportation (Aerospace, Automobiles, Railways), Pharmaceuticals & Medical Equipment, Defence, Mechanical & Plant Engineering, Liquefaction Projects, Food & Beverage Processing, Marine Equipments, Pulp & Paper etc. |
Grades*
304/L – 1.4301/1.4306
316/L/Ti – 1.4401/1.4404/1.4571
321/H – 1.4541/1.4878
UNS S32750 – 1.4410